The Noe Valley Annual Egg Hunt is Saturday April 15, 2017! 10am – noon
Douglass Park, 26th & Douglass Street, WEATHER PERMITTING!
This year's annual Noe Valley easter Egg Hunt will take place at Douglass Park, located at 26th & Douglass Streets in San Francisco's Noe Valley neighborhood. This is a community event open to all families!
• Free egg hunt on the grass field
   Toddlers will get to go first :) and there will be two hunts. This event is intended for younger children. Parents: please try to limit your children to 5 eggs so there are enough for all!
There will be two hunts at 10:15 and 11:15.
• Live Music 10-11:30 with Skillet Licorice
• Raffle! Fun items courtesy of local merchants! tickets $2 or 3/$5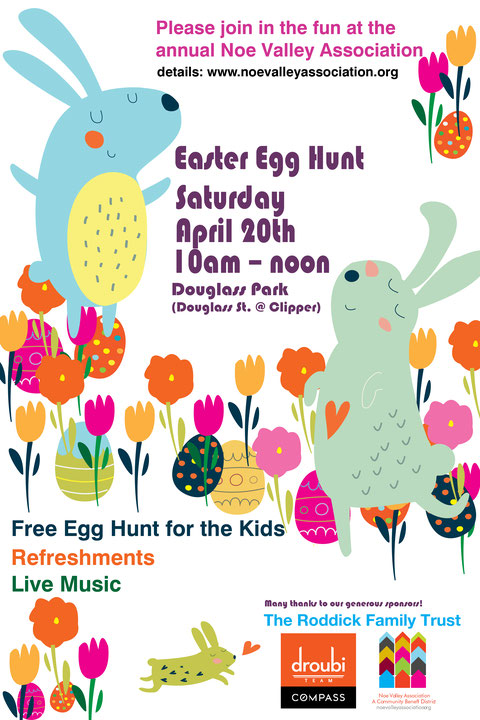 LIVE MUSIC 10-11:30
Skillet Licorice is the latest project from San Francisco Bay Area roots-music luminaries Elise Engelberg and Matt Knoth. Whether they're playing hot fiddle breakdowns, slinky blues, sparkling banjo breaks, ragtime or dreamy waltzes the duo displays an impressive command of styles and techniques that comes from deep study and loving dedication to America's folk traditions.
Thank you to our generous sponsors!
...and The Roddick Family Trust
Egg Hunt 2017 merchant raffle donation letter and form
Egg Hunt 2017 merchant raffle donation l
Adobe Acrobat Document
659.8 KB
The annual egg hunt is always a big hit thanks to our sponsors and the many people that work to put on this neighborhood tradition. Local families enjoy a beautiful morning of music, a raffle and the popular community egg hunt.
Here are some of our favorite pictures...