SummerFEST 2018 will take place on Sunday July 29th, 11 AM - 4 PM at the Noe Valley Town Square!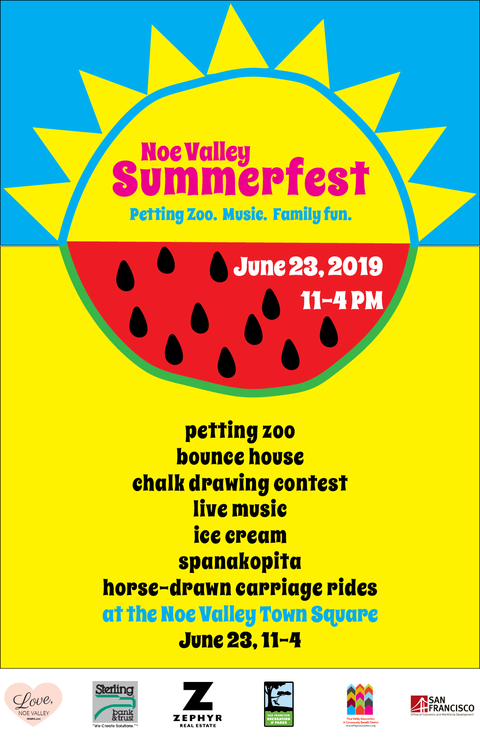 Free, Family-Friendly SummerFEST in
San Francisco's Noe Valley Neighborhood
San Francisco, CA, July 29, 2019-- San Francisco's Noe Valley neighborhood celebrates summer in style with its 9th annual SummerFEST—a five-hour celebration filled with fun activities for the community. The event takes place on Sunday, July 29, from 11:00 a.m. to 4:00 p.m in the Noe Valley Town Square, and is an opportunity for the community to mingle and for merchants to show their appreciation.
Activities include the Merchants' Hayride, a Noe Valley tradition, where passengers take a nostalgic ride in a horse-drawn wagon down 24th Street between Castro and Sanchez Streets. Rides are free and run from 1:00 p.m. to 4:00 p.m. with boarding in front of Walgreen's (Castro and Jersey Streets) and at the Noe Valley Town Square. 
Free activities include a Petting Zoo with a variety of animals – sheep, goats, alpaca, guanaco, miniature donkey and a pig, face painting, Pop-a-Shot basketball, Connect-4 and live music by local musicians Skillet Licorice. The Noe Valley Town Square will include a bounce house for younger kids and a balloon artist. Free ice cream by Noe Valley's own Mitchell's Ice Cream will be provided courtesy of The Agency, and NOVY restaurant will be sampling their homemade spanakopita.
Artists both young and old will want to enter the chalk drawing contest which takes place from 11:00 a.m. to 3:00 p.m. Local merchants are donating prizes and gift certificates for 1st, 2nd and 3rd place in both the 11 and under, and 12 and up categories. 
The Merchants' Hayride is sponsored by Zephyr Real Estate. Additional event major sponsors include The Agency, Sterling Bank and Trust, and First Republic Bank. This event is a collaboration of the Community for the Noe Valley Town Square, the Noe Valley Association, and the Noe Valley Merchants and Professionals Association.