Welcome!
In its first eight – twelve years of operation, the NVA installed 28 benches throughout the 24th Street commercial corridor. In 2021, the NVA initiated bench slat replacement for all 28 benches in the district. The original bench slats were a mix of oak and pine wood, and had been deteriorating over the years, causing splinters. It was decided to replace the wooden bench slats with recycled plastic ones from the same vendor, Ross Recreation.
The four Bigbelly trash receptacles are located at Castro and 24th Streets, Noe and 24th Streets, in front of the Noe Valley Town Square and at 24th and Church Streets. The 2023 purchase of these high-efficiency receptacles by the NVA has been provided by City grants.

Bigbelly is a prominent smart solution provider as the world leader of smart waste and recycling solutions. Deployed across communities, campuses and organizations in over 50 countries, the cloud-connected Bigbelly smart waste & recycling system combines smart, sensing, compacting stations with real-time software. Customers experience up to 80% collection reduction in addition to cleanliness, operational, economic, and environmental gains with Bigbelly.
BIGBELLY SYSTEM: HOW IT WORKS 
The stations on the street collect garbage as pedestrians deposit their waste into the appropriate stream available at each location. The station is continuously sensing the amount of waste within and communicating that fullness status into to CLEAN. When it reaches full capacity, and needs to be emptied, the station communicates the change in status and collection crews are notified. This real-time insight allows crews to focus their efforts on only those stations which need to be collected… no more picking up nearly empty bags of trash or cleaning up the overflows from waste bins piled high.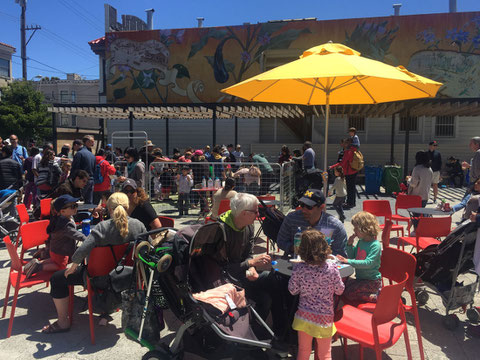 The Noe Valley association is the fiscal sponsor for the Noe Valley Town Square.
The Noe Valley Association (CBD) was established in August 2005 as a fifteen-year community benefit district which receives an annual special assessment from the 208 properties in the district. The first assessments were received by the NVA in January 2006. The NVA consists of roughly six city blocks, including the side streets of corner buildings, on 24th Street in Noe Valley between Church & Douglass Streets. The NVA was renewed for another 15-year term as of January 1, 2021.