Tree Maintenance
StreetTreeSF is the citywide street tree maintenance program launched on July 1, 2017, managed by the San Francisco Department of Public Works (SFDPW).

 

The NVA continued to trim trees within the CBD through December 2020 per the original CBD management plan, which expired on December 31, 2020. With its renewal on January 1, 2021, the NVA CBD no longer offers tree maintenance as part of the current management plan, as the City of San Francisco has taken this over in accordance with recent legislation. 

The cost of tree maintenancehas been removed from assessments paid by NVA CBD property owners.

 

StreetTreeSF is a voter-approved initiative managed by San Francisco Public Works to professionally maintain and care for the 124,000-plus street trees growing throughout all neighborhoods in the City. San Francisco Public Works is developing StreetTreeSF into an efficient and cost-effective system to routinely and proactively maintain street trees, ensuring that all public trees are inspected and pruned on a regular basis. Street trees will be pruned once every three- to five-years depending on the type of tree. StreetTreeSF will also repair sidewalks that have been damaged by street trees.

Now that StreetTreeSF is maintaining and caring for all street trees, residents do not need to prune trees themselves.
For more information, please visit: http://sfpublicworks.org/streettreesf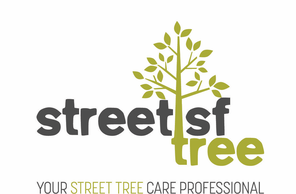 For urgent matters:
If a street tree near you is posing an immediate safety concern in a public right-of-way, report the issue to 311 online, via the mobile SF 311 app or call 311. Before you contact StreetTreeSF, determine the street address and the nearest cross-street where the street tree is located. 
Note: Urgent pruning requests must meet an immediate safety concern requirement in order to be addressed. Conditions requiring immediate attention include:
Broken, hanging limbs
Damaged, diseased and/or dead limbs
Blocked streets, sidewalk or bike lanes (clearance issues)
Interference with traffic signs or signals