Some of our accomplishments...
In 2017, the NVA installed eight new street benches and all new parklet furniture thanks to a grant from the Mayor's Office of Economic Development.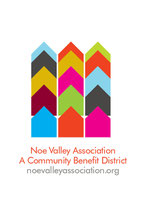 Public Rights of Way and Sidewalk Operations

• Daily sidewalk and gutter sweeping and spot cleaning seven days a week by Curb Appeal. 
• Ten hot water steam cleanings monthly from February through November plus additional deep cold-water wash cleaning of sidewalks as needed.  A special sidewalk scrubber was purchased which aggressively scrubs sidewalks.

• Removed over 188 pieces of bulky and illegal trash (boxes, furniture, yard debris, bags of garbage, etc.) from sidewalks and gutters, worked with 28CLEAN and reported consistent trash abusers.  This is a 26% reduction in bulky trash versus one year ago.

• Removed 134 graffiti marks within 24 hours.  This was a 77% reduction in graffiti markings. The NVA was awarded the Mayor's citation for outstanding graffiti removal in January 2007.

• Replaced the liners of 14 city garbage cans as needed to prevent leakage and obtained trash keys from DPW to replace liners on an as-needed basis.

• Removal of flyers and posters on utility poles in the District. Regular monitoring of flyers and maintenance of street poles.

• Pruned 50% of the existing trees in the district. The remaining 50% will be trimmed in FY 2008.  All established trees were put on a three-year trimming cycle.

• Removed dead trees and sucker branches and continued to regularly maintain and clean tree wells.

District Identity and Streetscape Improvements

• Planted 68 trees in April 2007 with help from Noe Valley community members and funding from a SF Community Challenge Grant.  Replaced 11 trees which had been vandalized and covered them with metal cage material to protect from future vandalism.  Replaced and repaired tree crossbars on a regular basis, again due to vandalism.

• Installed 25 hanging flower baskets on MUNI stability poles along 24th Street.

• Contracted with Urban Ecology to conduct three community-based meetings.  A long-term plan for streetscape improvements for 24th Street, called "Noe Valley's 24th Street, an Urban Village", was created.  A copy of the report is available upon request.

• We are working with DPW and MOED to fulfill two elements of the plan:  bulb outs with more greening, open sidewalks and new crosswalks.  The NVA has

initiated conversations with Integrated Paving Concepts to use Noe Valley as a test site for DuraTherm, a new traffic tough crosswalk material.  We have yet to secure DPW approval for a test site, but we are hopeful as this product is used in other major cities with excellent results.

• Noe Valley Harvest Festival - The Friends of Noe Valley, the Merchants Association, Noe Valley Farmer's Market and the NVA together created this annual neighborhood event held in October.

• Received grant monies totaling $25,500 from the

Community Challenge Fund and MOED.  In addition,

we received $1,000 from a member of the Noe Valley community for the good work we have done to date.

• Established a news rack and underground committee to explore our options for obtaining the new news racks the Mayor is placing in large tourist and commercial areas.  The Mayor promised that Noe Valley would be the first San Francisco "neighborhood" to receive the pedestal news stands.  We hope the Mayor will keep his word.

Administrative/Corporate Operations

• Elected new Executive committee members at our

annual meeting with property owners in June 2007.

• Published an annual report & distributed to property owners.

• Explored creating a Neighborhood Safety Network with the Noe Valley Merchants & Professional Organization in partnership with the Mayor's Neighborhood Empowerment Network.

• Revised by-laws to reflect a change in the NVA's fiscal year from October 1- September 30 to mirror the City of San Francisco's fiscal year of July 1 – June 30.

• Held five Board meetings during the year and recruited a new community board member.

• In process of creating a website for NVA contacts, meeting dates/times and activities.